…. is rescheduled into April 2021!
Can you believe it? A whole year, minus one month, on from when THE WENDY JAMES BAND were originally set to gig the UK this year.
I have been waiting as long as I could, to see if it was likely that gigs would go ahead this year without detriment to peoples health.
The practice of social distancing is kind of redundant in a gig setting… that's the whole point, big and small venues alike, we all want to get up close and personal with the shared, communal, musical experience.
Some of the venues I'm scheduled to perform in aren't even considering opening until November at the earliest… and it became apparent the whole thing needed to be moved to what, we hope, will be a safer 2021.
Back in May, when I first rescheduled to September 2020, I really did think that was enough time! How ridiculous it seems now… 'curves' may be 'flattening' but a second wave of COVID19 is anticipated for Autumn and until there is a vaccine I think we must all remain cognizant of our health and that of those around us.
For the venues, it's a disaster… to open up with social distancing would mean financial doom for them, worse even than shuttering, so there is no doubt, in my mind, that this is the correct course to take.
UPSIDE:
I have added OXFORD 02 and PAISLEY ROCKNROLLAS into the tour AND… to be confirmed: Liverpool, Sheffield and I expect some dates in Ireland and Northern Ireland too, preceding the mainland tour.
I've also been offered MEXICO and USA! Plus, I know there are a couple of big ticket announcements for 2021, where I will be a very choice opening act for a couple of bands… to be revealed!
So, once again, we make lemonade from lemons! And move forward!
Now there really is NO EXCUSE for a single person in the audience to not know QUEEN HIGH STRAIGHT by then!!
All TICKET LINKS REMAIN VALID. ALL TICKETS REMAIN VALID. ALL VIP REMAIN VALID
ALL can been accessed via https://thewendyjames.com/live
Print out your local flyer from the carousel and go spread the news!!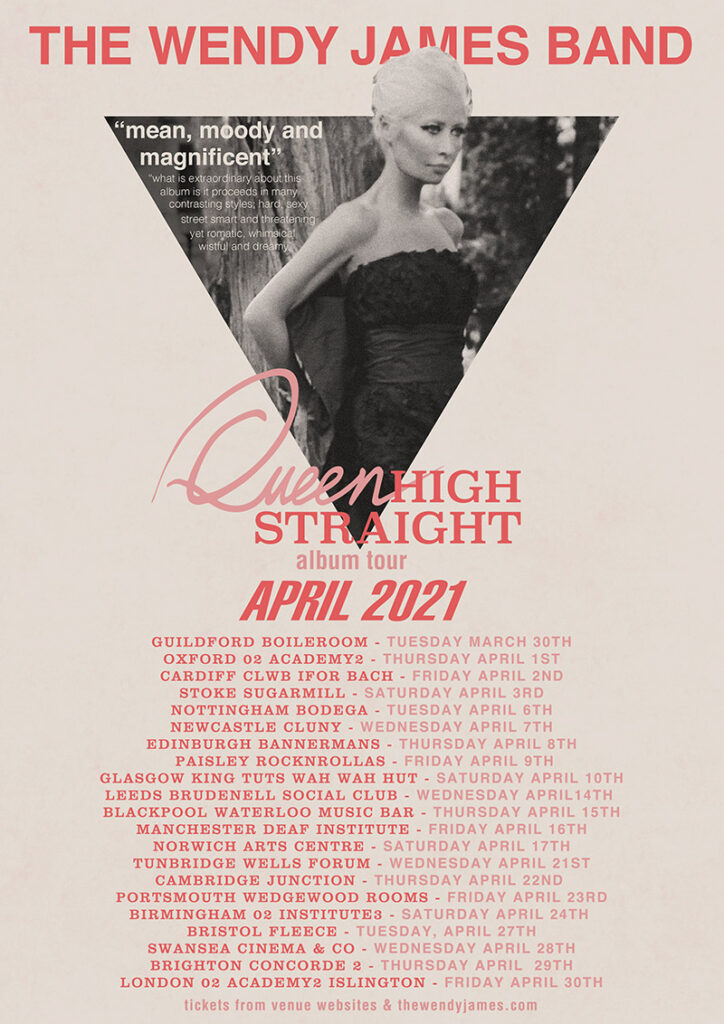 THE ALBUM!!!!!
QUEEN HIGH STRAIGHT surges forward with universally ecstatic listeners! As always I am overjoyed by the comments you make to me on different social media sites!
Your handpicked double a-side single KILL SOME TIME BLUES + MARLENE ET FLEUR is going up to radio at the moment and I hope it finds some friends there! Don't hesitate to tweet the shows you listen to and ask them to play it!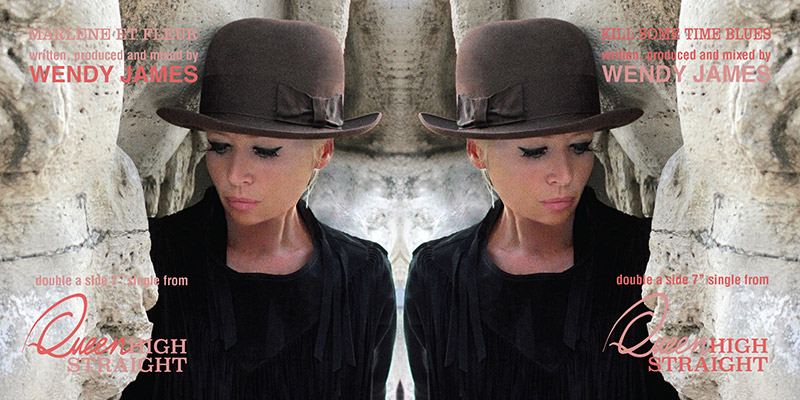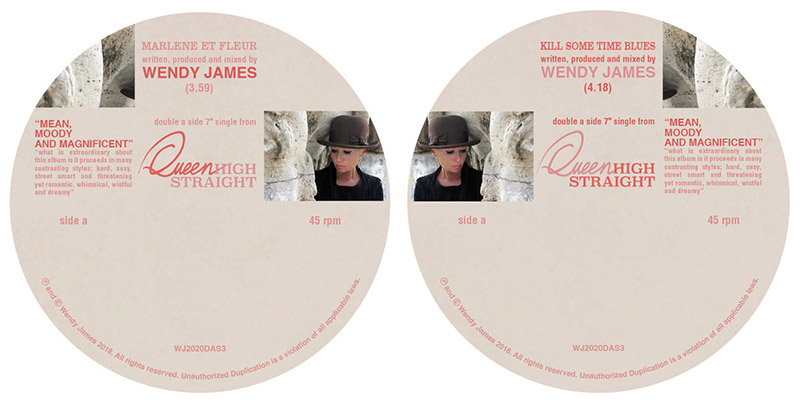 I have added additional links on the QUEEN HIGH STRAIGHT page of my website: https://thewendyjames.com/queen-high-straight/ so for those of you who want to view the album Liner Notes and Lyrics can:
Queen High Straight Liner Notes: https://thewendyjames.com/liner-notes/
Queen High Straight Lyrics: https://thewendyjames.com/lyrics/
If you want your favorite song's lyrics, in the form of my recording session notes (and the mix notes), then I can personalize them to you and send them…
The artwork proofs of QUEEN HIGH STRAIGHT can also be yours. I have them here and I will personalize them over to you and ship them out.
And the TEST PRESSINGS, 3 sets left… they are expensive! but they will forever be extremely rare and finite.
WENDY JAMES SOHO GARAGE ON SOHO RADIO
Last Friday, 19th June, I hosted Soho Garage on Soho Radio, standing in for James Meynell. I thoroughly loved the experience and I think it went well!
Listen back to the mixcloud archive here:
So, as much as I am going to snatch victory in 2021 from the jaws of COVID19 for THE WENDY JAMES BAND, I also hope that you all…….. are coping with the adjustments having to be made for the pandemic and the culture changing marches and movements across the planet that beckon in a better future for us all.
My love and gratitude to you remains constant
Wendy xo
Buy Queen High Straight here: https://thewendyjames.com/store