Wendy James Double A-Side 7" Single
A. Kill Some Time Blues(4.18)
A. Marlene et Fleur (3.59)

from

QUEEN HIGH STRAIGHT
20 Track Deluxe Album

ALBUM OUT ON MAY 1 2020

Buy now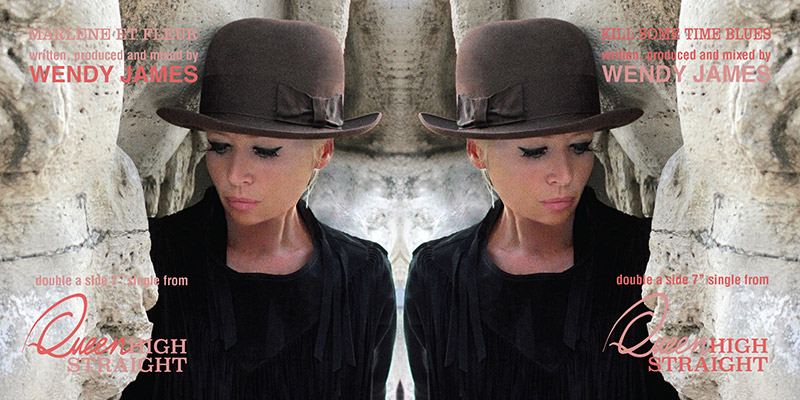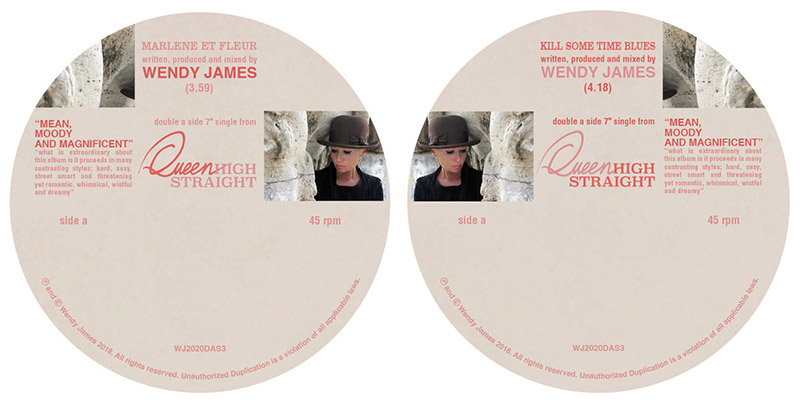 Wendy James Double A-Side 7" Single
A. Queen High Straight (4.32)
A. Little Melvin (4.52)

from

QUEEN HIGH STRAIGHT
20 Track Deluxe Album

ALBUM OUT ON MAY 1 2020

Buy now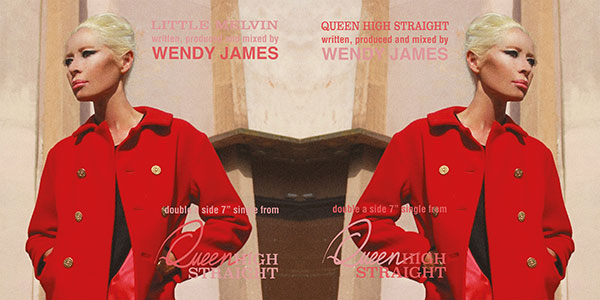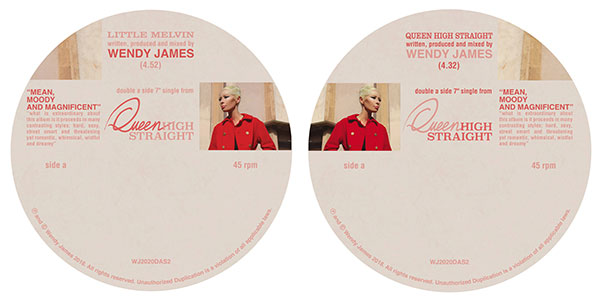 Wendy James Double A-Side 7" Single
A. Perilous Beauty (4.08)
A. Chicken Street (4.13)

from

QUEEN HIGH STRAIGHT
20 Track Deluxe Album

ALBUM OUT ON MAY 1 2020

Buy now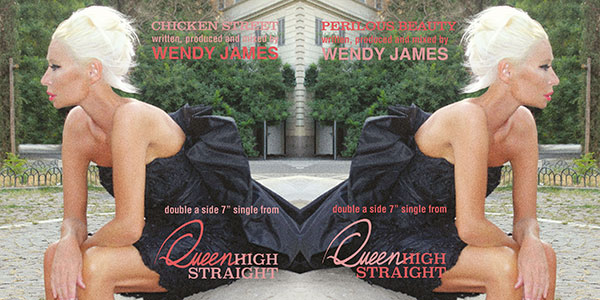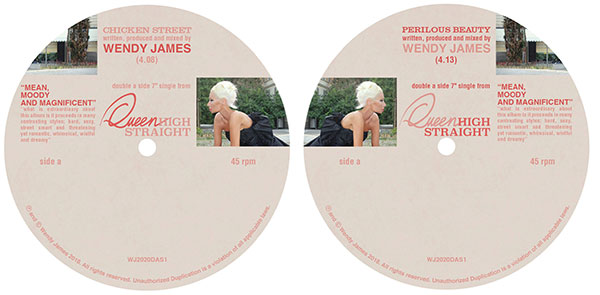 ALBUM PREVIEW TRACKS
TRK 1 'QUEEN HIGH STRAIGHT'
QUEEN HIGH STRAIGHT
TRK 2 'PERILOUS BEAUTY'
PERILOUS BEAUTY
TRK 5 'LITTLE MELVIN'
LITTLE MELVIN
TRK 6 'MARLENE ET FLEUR'
MARLENE ET FLEUR
TRK 9 'CHICKEN STREET'
CHICKEN STREET
TRK 20 'KILL SOME TIME BLUES'
KILL SOME TIME BLUES
Queen High Straight has taken three years from inception, the writing stage, through until final Masters.
20 songs, yet more elevated song writing, diverse in style, but pulling on familiar and favorite influences and references from Wendy's musical language. Dirty Punk Blues, Grunge Pop, idiosyncratic ballads and whimsy and some Maximum Rock n Roll: all with lyrical content which has poetry, depth, empathy and observational savvy.
The Album is 120 minutes in length and all 20 songs are available in 4 different presentations.
THE DELUXE GATEFOLD DOUBLE VINYL
This presentation of Queen High Straight contains two 12" vinyls, five cuts a side. It contains liner notes on the inside gatefold, written by Wendy, it contains fully printed, art designed inner sleeves sides 1/2/3/4 with all of the lyrics and all of the technical credits from the album. All the artwork of this presentation is unique to the Deluxe Gatefold Vinyl, including the record labels themselves. As substantive as the music and lyrics are on Queen High Straight are, so too is the artwork.
*The music is mastered for Vinyl.
TRACK TITLES AND RUNNING ORDER
Side 1
1. Queen High Straight (4.31)
2. Perilous Beauty (4.08)
3. Free Man Walk (3.39)
4. Stomp Down, Snuck Up (4.14)
5. Little Melvin (4.52)
Running time: 20.44
Side 2
6. Marlene et Fleur (4.00)
7. A Heart Breaking Liar's Promise (5.11)
8. Here Comes The Beautiful One (3.45)
9. Chicken Street (4.13)
10. Testimonial (4.18)
Running time: 21.27
Side 3
11. Bar Room Brawl & Benzedrine Blues (4.07)
12. Ratfucking (2.35)
13. She Likes To Be (Underneath Somebody) (3.21)
14. Bliss Hotel (4.00)
15. Freak In (3.05)
Running time: 17.08
Side 4
16. The Impression Of Normalcy (3.36)
17. I'll Be Here When The Morning Comes (4.15)
18. Cancel It… I'll See Him On Monday (3.37)
19. Sugar Boy (4.00)
20. Kill Some Time Blues (4.18)
Running time: 19.06
THE DELUXE GATEFOLD CD
This presentation of Queen High Straight comes in the form of a Deluxe CD gatefold package. In one pocket comes the CD containing all 20 songs and in the other is a16 page booklet. The inside of the gatefold is original art designed for the Deluxe CD and the content lists the track titles, the credits of the musicians on the album and technical aspects too: recording engineers, mix engineer, mastering engineer, photographer and graphic layout. The booklet contains 4 pages of liner notes written by Wendy and then proceeds with all the lyrics of the album. Each and every page, cover, back, inside and booklet have photographic and design layout unique to the Deluxe CD as does the label.
*The music is mastered for CD.
THE STANDARD CD
This presentation of Queen High Straight is the Standard CD! In a card jacket with artwork and label designed especially for the Standard CD and a unique inner sleeve designed to protect the CD within.. It contains all the information you need: Track titles, credits, running times. This package is very beautiful.
*The music is mastered for CD.
THE DIGITAL DOWNLOAD
This presentation of Queen High Straight is for Download and Streaming! It contains all 20 songs, digitally imprinted so you know which song is which when it plays. Once again the art work is unique to the digital package and provides all information to accompany the music: track titles, credits, running times.
*The music is mastered for Hi-Res download and streaming.
TRACK TITLES AND RUNNING ORDER
1. Queen High Straight (4.31)
2. Perilous Beauty (4.08)
3. Free Man Walk (3.39)
4. Stomp Down, Snuck Up (4.14)
5. Little Melvin (4.52)
6. Marlene et Fleur (4.00)
7. A Heart Breaking Liar's Promise (5.11)
8. Here Comes The Beautiful One (3.45)
9. Chicken Street (4.13)
10. Testimonial (4.18)
11. Bar Room Brawl & Benzedrine Blues (4.07)
12. Ratfucking (2.35)
13. She Likes To Be (Underneath Somebody) (3.21)
14. Bliss Hotel (4.00)
15. Freak In (3.05)
16. The Impression Of Normalcy (3.36)
17. I'll Be Here When The Morning Comes (4.15)
18. Cancel It… I'll See Him On Monday (3.37)
19. Sugar Boy (4.00)
20. Kill Some Time Blues (4.18)
THE MUSICIANS
vocals, rhythm guitar, keys, melodica
WENDY JAMES
rhythm guitar, lead guitar
JAMES SEDWARDS
bass guitar
HARRY BOHAY
drums, percussion
JAMES SCLAVUNOS
alto sax
ALEX J. WARD
trumpet, cornet, flugelhorn, tenor & baritone sax
TERRY EDWARDS
accordion
LOUIS VAUSE
THE ENGINEERS
recording engineers
IAN DOWLING, JOE SAGE, AL LAWSON
assistant engineer
PIETER RIEKERK
mix engineer
TIM MORRIS
mastering engineer
FRED KEVORKIAN
recorded, mixed and mastered on location in uk and ny
THE DESIGN
photography
DAVID LEIGH DODD
graphic layout
STUART PRESTON
All songs written, produced and mixed by Wendy James
Ⓟ and © Wendy James 2018. All rights reserved. Unauthorized Duplication is a violation of all applicable laws.
π