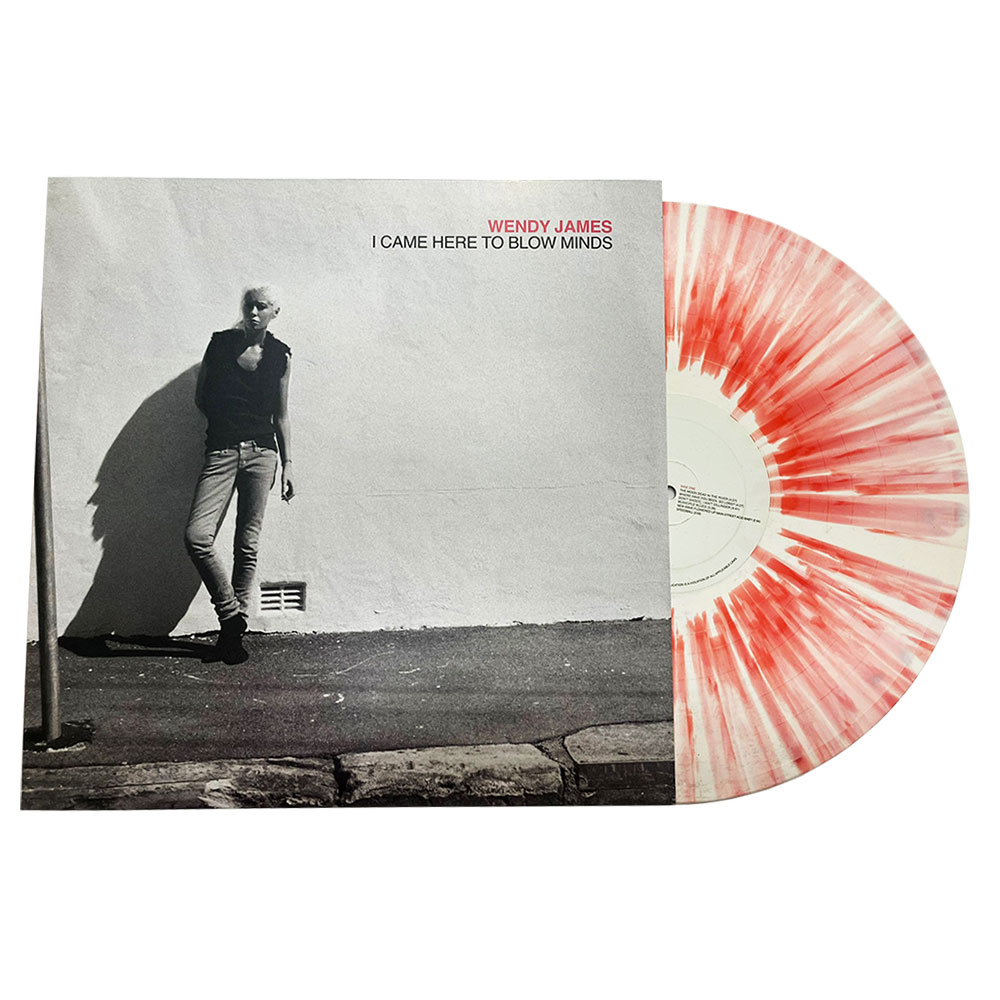 £45.00
I CAME HERE TO BLOW MINDS Special Edition Reissue Splatter Pattern Colour 12″ Vinyl
In stock
Description
This is Wendy's 'break-out' LP and features 13 original compositions.The songs are typically ranging from Wendy's love of New York New Wave Rock n Roll through to more Country Ballad and Phil Spector 'Wall Of Sound' production. Reissued now as a Special Edition Color Splatter 12" vinyl. Not only that… the artwork: jacket, inner-sleeve and labels have been re-envisioned and updated, clearly this is a one-off run of vinyls!
TRACK LISTING
SIDE ONE
1. The Moon Dead in the River (4.57)
2. Where Have You Been, So Long? (4.27)
3. Don't Shoot – I Ain't Dillinger (4.41)
4. Municipal Blues (3.26)
5. New Wave Flowered Up Main Street Acid Baby (2.44)
6. Speedball (3.59)
Side One – Total running time: 23 minutes
SIDE TWO 
7. No Dice (3.22)
8. You Tell Me (3.46)
9. King Hoodlum (3.26)
10. One Evening, in a Small Café (3.45)
11. These Beggar Memories (4.21)
12. You're a Fucking Mess, But You Sure Is Pretty (2.19)
13. I Came Here to Blow Minds (3.21)
Side Two – Total running time: 23 minutes
Total Running Time: 46 Minutes
MUSICIANS
Wendy James – Vocals, Rhythm Guitar, Keys
Jeremy Orsel – Rhythm & Lead Guitar, Bass Guitar
Hadrien Grange – Drums
Brock Fitzgerald – Guitar
Wade Keighran – Bass, Percussion
Sam Pearton – Drums
All songs written and produced by Wendy James
All songs mixed by Wendy James & Scott Horscroft
Photography by James Traill
Art Direction by Wendy James & China Heights
*Mastered for Vinyl
*Buy Now
+ Packaging and Shipping
Ⓟ & © Wendy James 2011. All rights reserved. Unauthorized Duplication is a violation of all applicable laws.