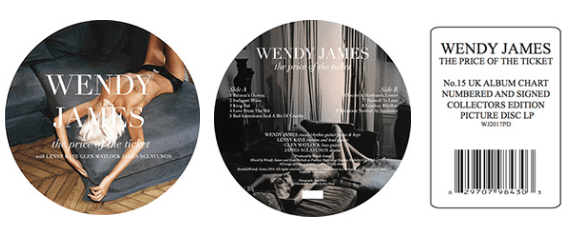 Great News!!
 Wendy has commissioned a picture disc vinyl of her LP 'THE PRICE OF THE TICKET'!!
The picture disc vinyl 12" will be numbered 1 through 250 copies and also signed by Wendy within the vinyl itself. A real collectors item.
 The pre-order campaign begins NOW! with delivery aimed for Record Store Day on April 22nd!
 Pre-order your copy now! Even if you don't own a record player (Vinyl is making leaps and bounds in re-growth as a format for music and musicians) this picture disc is a thing of beauty to own in and of itself.
 The official artwork has been re-formatted and overseen by Wendy and she personally will be signing the numbers and her signature onto the image before it is then pressed into the vinyl record.
 Mastered for Vinyl. Collectors Item numbered and signed Picture Disc Vinyl.
PLAYERS:
WENDY JAMES – VOCALS/RHYTHM GUITAR/KEYS & PIANO
LENNY KAYE – RHYTHM/LEAD GUITAR (Patti Smith/Nuggets)
GLEN MATLOCK – BASS (Sex Pistols)
JAMES SCLAVUNOS – DRUMS (Nick Cave and The Bad Seeds)
 All songs written and produced by Wendy James
All songs mixed by Wendy James & Jesse Nichols
Photography and Art Direction by Kym Ellery and Roze Hooij
 THE PRICE OF THE TICKET VINYL TRACK LISTING
 SIDE A
1 PALOMA'S DOWNS (5.45)
2 INDIGENT BLUES (3.41)
3 KING RAT (4.56)
4 LOVE FROM THE 9TH (2.45)
5 BAD INTENTIONS AND A BIT OF CRUELTY (3.41)
 Side A – Total running time: 21 minutes
SIDE B
6 YOU'RE A DIRTBOMB, LESTER (6.38)
7 FAREWELL TO LOVE (3.16)
8 COWBOY RHYTHM (5.20)
9 SITUATION NORMAL AT SURFRIDER (7.09)
 Side B – Total running time: 23 minutes
TOTAL VINYL RUNNING TIME: 44 MINUTES
***INCLUDES THE PRICE OF THE TICKET DIGITAL DOWNLOAD ON FLAC OR MP3
TRACK LISTING
1 PALOMA'S DOWNS (5.45)
2 INDIGENT BLUES (3.41)
3 KING RAT (4.56)
4 LOVE FROM THE 9TH (2.45)
5 BAD INTENTIONS AND A BIT OF CRUELTY (3.41)
6 YOU'RE A DIRTBOMB, LESTER (6.38)
7 SCREAMIN' BACK WASHINGTON (Bonus) (3.14)
8 WHY OH WHY DO YOU HURT ME STILL? (Bonus) (1.55)
9 FAREWELL TO LOVE (3.16)
10 COWBOY RHYTHM (5.20)
11 SITUATION NORMAL AT SURFRIDER (7.09)
12 YOU'RE SO GREAT (Bonus) (3.26)
13 IT'S ALRIGHT MA (Bonus) (7.02)
PLAYERS:
WENDY JAMES – VOCALS/RHYTHM GUITAR/KEYS & PIANO
LENNY KAYE – RHYTHM/LEAD GUITAR (Patti Smith/Nuggets)
GLEN MATLOCK – BASS (Sex Pistols)
JAMES SCLAVUNOS – DRUMS (Nick Cave and The Bad Seeds)
JAMES WILLIAMSON – GUITAR & BASS. Track 12 & 13 (The Stooges)
STEVE MACKAY – BARITONE SAX. Track 12 & 13 (The Stooges)
 All songs written and produced by Wendy James
All songs mixed by Wendy James & Jesse Nichols
**Tracks 12 &13 written by Fred 'Sonic' Smith & Bob Dylan
Photography and Art Direction by Kym Ellery and Roze Hooij
Release Date April 22nd 2017