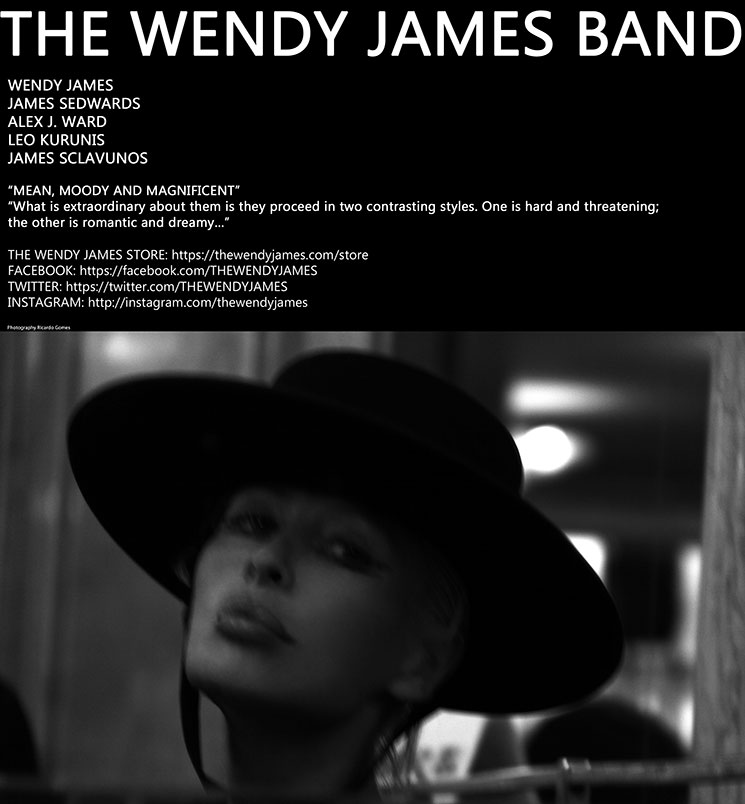 Well!
– I've announced the fact that my band THE WENDY JAMES BAND are opening for The Psychedelic Furs in October and I THINK I'll be able to announce further shows in the next week or so!
– Going out with the P. Furs is so exciting and makes me so happy… I know Richard Butler a little and see him at his painting exhibitions in NYC and as an audience member when The Psychedelic Furs play the East Coast of USA! Richard is a very good artist and decent chap too! As a teenager, I remember, like tons of us, singing along to Pretty In Pink imagining I was Molly Ringwald, from the wrong side of the tracks, in the movie Pretty In Pink and early on I owned The Psychedelic Furs LP 'Talk Talk Talk'.
There are some good gig times ahead in 2019!
Tickets go on sale tomorrow here: http://po.st/WendyJamesFurs19
My band THE WENDY JAMES BAND are as great a line-up of musicians a person dare wish for! James Sedwards and Alex J. Ward on guitar (and other instruments)! I met both of these men through the recording of my new double LP QUEEN HIGH STRAIGHT and they are heaven, their instinct and intuition for rhythm, feel, melody and style is perfect, I am happy and exhilarated in their company! Leo Kurunis is taking over bass playing from Harry Bohay-Nowell! He roomed with James Sedwards and he's played with James Sclavunos and he is dynamite bass player! so that's a win/win… and of course darling, most beloved genius drummer James Sclavunos who's been drumming with me, percussioning with me, helping, advising and inspiring me for 7 years or so now… since the James Williamson/Jesse Nichols sessions out in California. I love James! James rules! and JAMES is phenomenal! So… it's a bloody good line up and I've told Richard Butler (The Psychedelic Furs) that we're gonna come 'packing heat' ! ha ha…
For THE WENDY JAMES GIG VIP Pass here: thewendyjames.com/store
QUEEN HIGH STRAIGHT! 20 SONGS DOUBLE LP!
Yes… the end is in sight, I feel bound to apologize for it taking so long! However when it's 20 songs, multiple musicians, multiple studios, multiple schedules AND self-funded these things are perhaps more of a juggling act than the good-old, bad-old days when a major record label had an open expense account for studio hire… and may I add I absolutely believe the calendar delays have worked in my favor in as much that they've enabled me to keep objectivity over the content of the recording and make all the right choices and decisions critical to arrangement and production of the album. It is the most divine piece of work and I am completely proud of it! I head back into the studio on May 8th through until 18th for the last recording session: my backing vocals and the final reference mixes, before then heading off to do THE MIX. The Mix will take a month?! 20 songs, 20 days plus 10 for recalls and fixes… this is the luxurious estimate, it may be I only have enough money for half that time!! We'll see! BUT whatever it is: I will not compromise and I will not skimp and I will leave the studio with nothing less than perfect!
FOR STUDIO VISIT VIP here:thewendyjames.com/store
PLEDGE MUSIC transitioning into THE WENDY JAMES STORE
I am waiting, like everyone else, for definitive news on the future of Pledge Music. I can fulfill all purchases made here at my store and in the meantime Pledge's official statement is that they WILL honor all pre-existing Pledge pre-orders. Some people have had success in getting refunds, not through Pledge but through their credit card providers so hopefully this is a relief and an avenue for those of you who are concerned. The least I could do was immediately transition into my own online store which, thanks to my web manager, looks extremely good and functions effortlessly and practically. I can receive your pre-orders for all QHS items just as you used to through Pledge Music and I have all of my previous LPs and their merchandise on hand to ship immediately. I am also very happily signing and personalizing any items people buy and particularly ask of me. 
The Stock Check is currently this:
QUEEN HIGH STRAIGHT PRE-ORDER ON ALL ITEMS!
*STUDIO VIP/*GIG VIP/*PERSONALIZED QHS LYRIC SHEETS AVAILABLE NOW!
THE PRICE OF THE TICKET
CD – Plenty
PICTURE DISC – Plenty
12" VINYL – 5 Only
TPOTT TSHIRT: Medium – 3 Only
TPOTT TSHIRT: Large – 3 Only
YOU'RE A DIRTBOMB, LESTER 7" VINYL – Plenty
BAD INTENTIONS AND A BIT OF CRUELTY 7" Vinyl – 1 Only
TPOTT TEST PRESSING – 3 Only
I CAME HERE TO BLOW MINDS
CD – 7 Only
RACINE 2 + 1 DEMOS
CD – 1 Only
(message me at thewendyjamesstore@gmail.com – not available online)
WENDY JAMES 'EVERY SONG IS DOPE' T-SHIRT
All Sizes – Plenty
So! Thats a round-up of my news/information/status!
Thank you all for your completely loyal and loving support and literally your friendship too! I could not do it without you and I would not be here without you!
My Love and Thanks as always…
Wendy xoxo April 25 2019