Hi Everyone!
How are you all?
Did you watch the BRUDENELL TV live broadcast? I was interviewed for an hour by Dave Simpson of The Guardian Newspaper. I enjoyed it, thoroughly and I've posted it to YouTube:
I also LOVED the QUEEN HIGH STRAIGHT live streaming session that preceded the interview! I couldn't keep up with everyone's comments, so many were there! The passion and enthusiasm you shared with me for Queen High Straight is so wonderful! Thank you so, so much!
If you haven't got your copy of Queen High Straight then PLEASE DO.
https://thewendyjames.com/store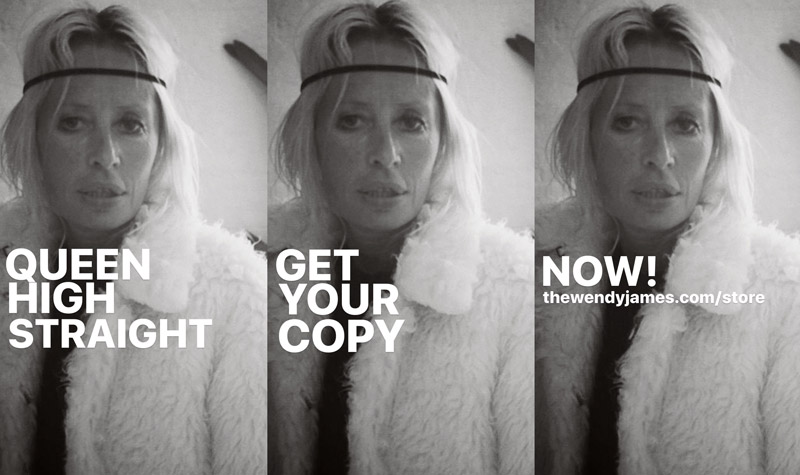 NEWS
RADIO
On Friday, 19th June I'll be standing in for James Meynell on Soho Radio SOHO GARAGE between 2-4pm GMT!
Tune in! I'm very excited and will obviously be choosing some great cuts to play! and talk about… Who knows what comes to mind!
To listen live: https://sohoradiolondon.com
THE PEOPLE'S CHOICE POLL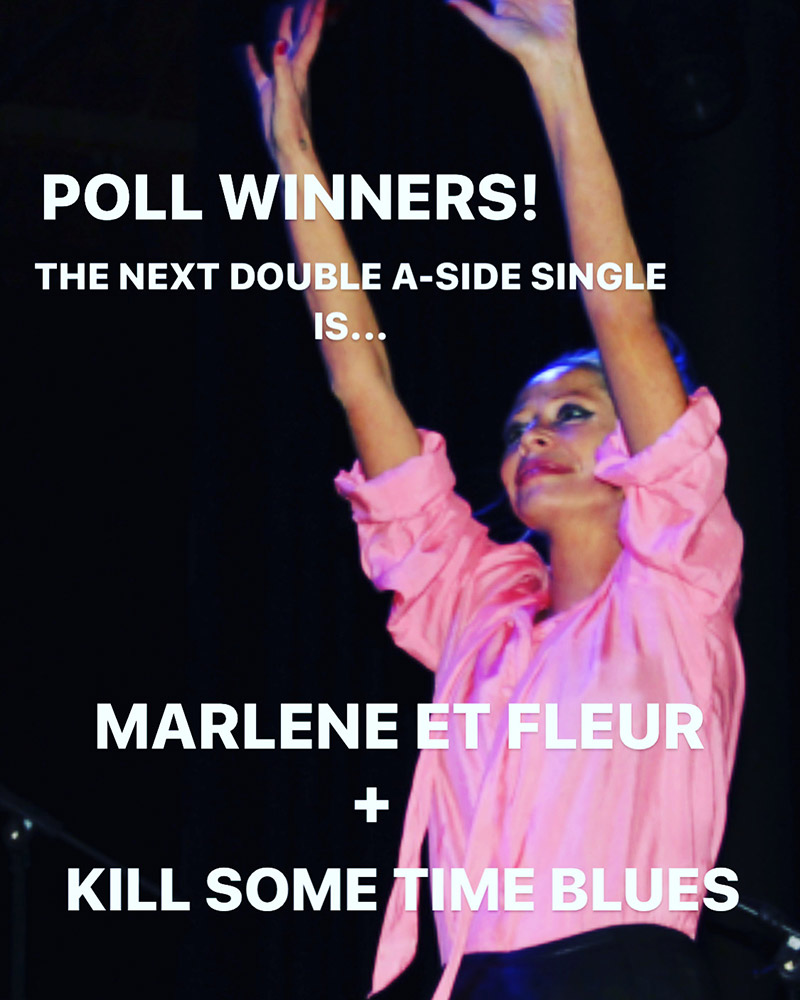 You all voted for your favorite two songs from QUEEN HIGH STRAIGHT over a period of a couple of weeks to decide which songs would be the next Double A-Side Single to go to radio and the winners were KILL SOME TIME BLUES + MARLENE ET FLEUR! Very good choices.
Thank you all so much for participating and with such determination and vested interest to have your favorites be the winners!
Here is the artwork for the single and I will let you know when we're going to radio with it!! I hope you all have the golden touch!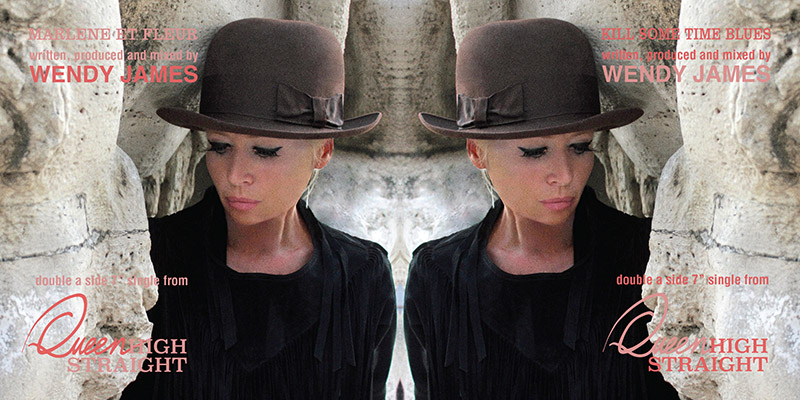 PRESS
ALL KILLER! NO FILLER!
QUEEN HIGH STRAIGHT has been getting so much good press… here are some examples:
"packed with 20 songs, remarkably filler-free, brimming with colourful vocabulary, catty character study (a Supremes-y Little Melvin), melodic excellence and stylistic dexterity… There's everything from Bitter Sweet MOR (Testimonial) to kitsch-pop (Ratfucking), but few nail flat-out punk rock as convincingly as does James on Perilous Beauty and The Impression of Normalcy. She means it, man, and it's a joy throughout." – 4/5 MOJO
"A superior collection of cosmopolitan pop music, the 20-song set is both catchy and complex. "I spend each day in splendid isolation, the quintessential intersection of nothing," she sings on the waltz-time wonder that is Free Man Walk. In doing so, she might just have written the anthem that best describes the lives of everyone who hears it." – The Telegraph
"A Motown flecked ode" (Little Melvin) – The Times
"A characteristically ambitious album, a double, 20 songs… a varied retro-pop clutch; James knows her way around the chords, and how to keep things moving. But the charm lies in their personality…" – Metro
"Written, produced and mixed by (ex-Transivision Vamp) Wendy James fronting a strong band and dabbling in a dizzying variety of styles." – Classic Rock
"stylish, vintage sounds, in thrall to the Velvet Underground, Bob Dylan and 1960s pop." – 4/5 Mail on Sunday
"Wendy gets the last laugh with an up-for-it 20-song double album of punk, rock & roll and general mayhem. Just as energetic as the Vamps, the songs are sharper than ever." – Daily Star
"James specialising in a Stooges belligerence as she rampages across half the album as if about to wreak terrible vengeance on the speakers. There's an insouciant poise throughout, as James ensures her devilment is backed up by strong tunes… It's impressive, showcasing what an under-rated writer and producer James has matured into." – Classic Pop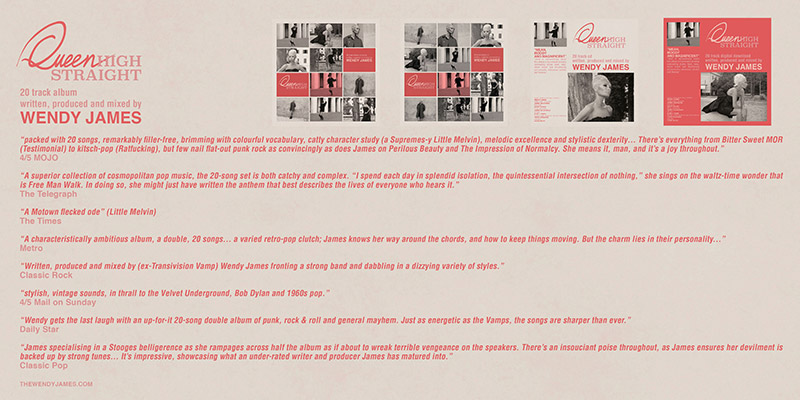 And… THE TOUR!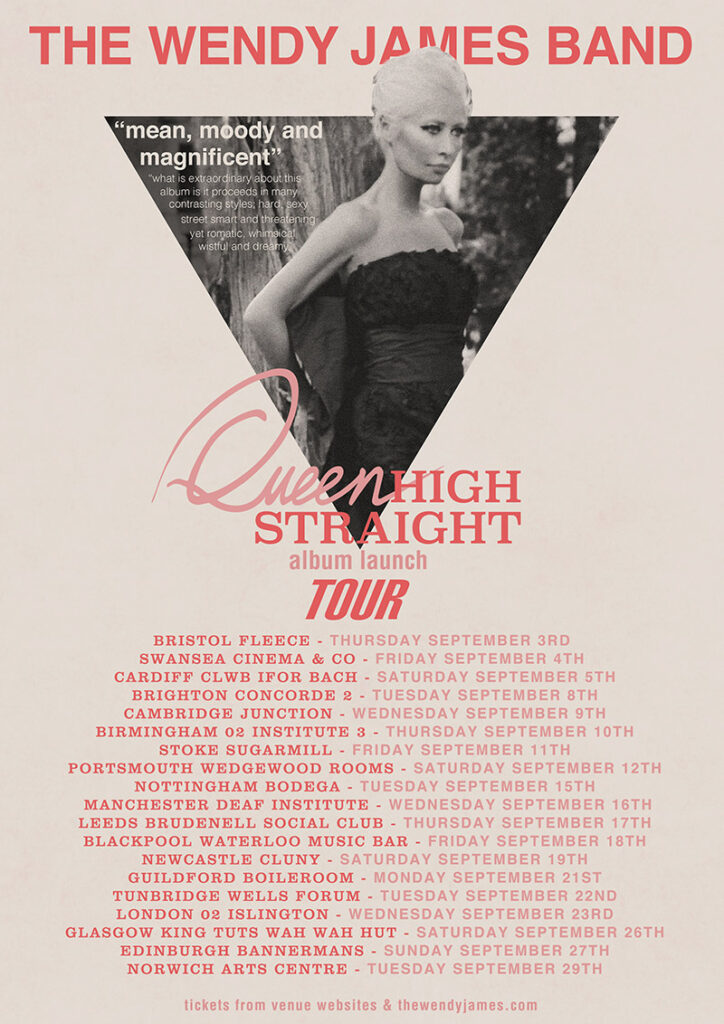 My band THE WENDY JAMES BAND is still currently scheduled for our September dates and I would love to be certain they will go ahead… of course, safety for everyone is the only concern so if venues tell me that it's not possible for September to go ahead then I will simply reschedule, once again, into the future when it's more likely to be possible.
All tickets are valid, all VIPS are valid and all links to both are working!
DATES AND TICKETS: https://thewendyjames.com/live
VIP GIG PASS: https://thewendyjames.com/product/v-i-p-the-wendy-james-gig-pass/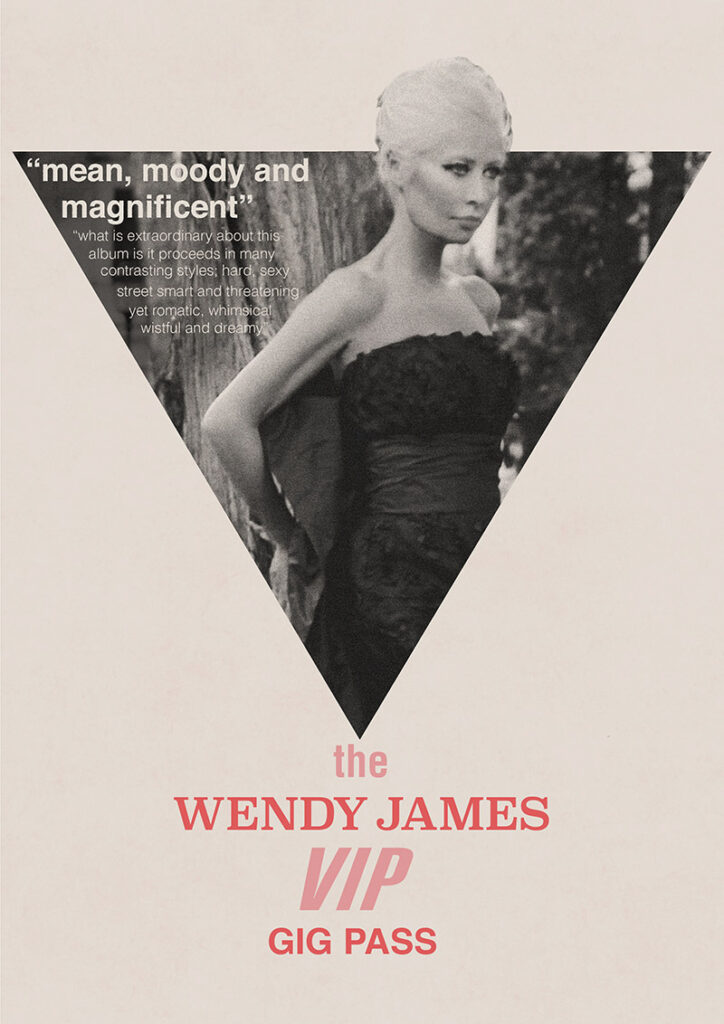 So! ONWARDS…
Keep on playing and listening and loving QUEEN HIGH STRAIGHT and make sure you've got the t-shirt! the poster! the personalized artwork proofs (which are massive by the way!) the test pressings, the personalized lyric sheets or mix notes! And previous albums and 7" singles are in the store too! https://thewendyjames.com/store
Much, much, much, much love!
Wendy xoxo
– And here is the QUEEN HIGH STRAIGHT video again…
❤️