February 5th 2020
Happy New Year!!
How's it going? Well, I hope!
QUEEN HIGH STRAIGHT
Things are getting busier and busier as I move toward the release date of QUEEN HIGH STRAIGHT on May 1st!
Firstly, let me tell you that I have approved the test pressings for QUEEN HIGH STRAIGHT. I have 5 of them (10 discs, it's a double vinyl of course) and I've spent the last 3 days going through all of them to be certain that all the music, the levels, the spacing, the tracking listing is correct.
It truly sounds wonderful! I knew this anyway but seeing it revolve on a turn-table is another landmark in the progress of this record!
Please do preorder your copies here: https://thewendyjames.com/store
If you want to own one of 5 Test Pressing packages they are an incredible artifact, a collectors item, then please do, I've made them available here:
The deadline for being on the Certificate Of Contributors is looming, artwork has been sent off to the manufacturers and soon they will have to print, I'd say there are about 3 weeks left… the Certificate of Contributors comes with either the Deluxe Vinyl here: or the Deluxe CD here:
Of course the lyrics/mix notes from my recording sessions are still available here.
The official Queen High Straight poster here.
The official Queen High Straight black t-shirts here.
The official Queen High Straight white t-shirts here.
– and of course the Kurt Shirt, The Face Magazine and Every Song Is Dope t-shirts are constantly available!
– and my picture disc for The Price Of The Ticket is here.
So…. get whatever you like!!
THE WENDY JAMES BAND May 2020 QUEEN HIGH STRAIGHT Album Launch TOUR!
Yes! I have extensive dates around the UK based on the May 1 ALBUM LAUNCH tour…
Here they and with their ticket links: 
TUNBRIDGE WELLS FORUM – TUESDAY 5TH MAY
https://bit.ly/39eTwoP
SWANSEA CINEMA & CO – WEDNESDAY MAY 6TH
https://buff.ly/2NGe01q
BRISTOL FLEECE – THURSDAY MAY 7TH
https://bit.ly/2S14Iji
NORWICH ARTS CENTRE – FRIDAY MAY 8TH
http://bit.ly/WendyJamesNAC
STOKE ON TRENT THE SUGAR MILL – SATURDAY MAY 9TH
https://bit.ly/2RoOfUu
NOTTINGHAM RESCUE ROOMS – MONDAY MAY 11TH
http://bit.ly/2uQnMaJ
MANCHESTER DEAF INSTITUTE – TUESDAY MAY 12TH
http://bit.ly/35rYHQ3
BRIGHTON CONCORDE 2 – WEDNESDAY MAY 13TH
https://bit.ly/36xv9C2
LONDON ISLINGTON 02 – THURSDAY MAY 14TH
http://bit.ly/WJIslington
CARDIFF CLWB IFOR BACH – FRIDAY MAY 15TH
bit.ly/WendyJamesBand-CDF
PORTSMOUTH WEDGEWOOD ROOMS – SATURDAY MAY 16TH
https://tinyurl.com/wpgqqoy
GUILDFORD BOILEROOM – SUNDAY MAY 17TH
https://link.dice.fm/J8AGKCcoi3
LEEDS BRUDENELL SOCIAL CLUB – TUESDAY MAY 19TH
http://bit.ly/WJamesLds
NEWCASTLE CLUNY – WEDNESDAY MAY 20TH
https://bit.ly/2s5k8ZE
GLASGOW GIG TUTS – THURSDAY MAY 21ST
ktwwh.co/wendyjames
BIRMINGHAM INSTITUTE 3 – FRIDAY MAY 22ND
http://bit.ly/WJInstitute
CAMBRIDGE JUNCTION – SATURDAY MAY 23RD
https://bit.ly/2tpSXt3
BLACKPOOL THE WATERLOO MUSIC BAR – SUNDAY MAY 24TH
http://skiddle.com/e/13735481
EDINBURGH BANNERMANS – MONDAY MAY 25TH
http://t-s.co/wend0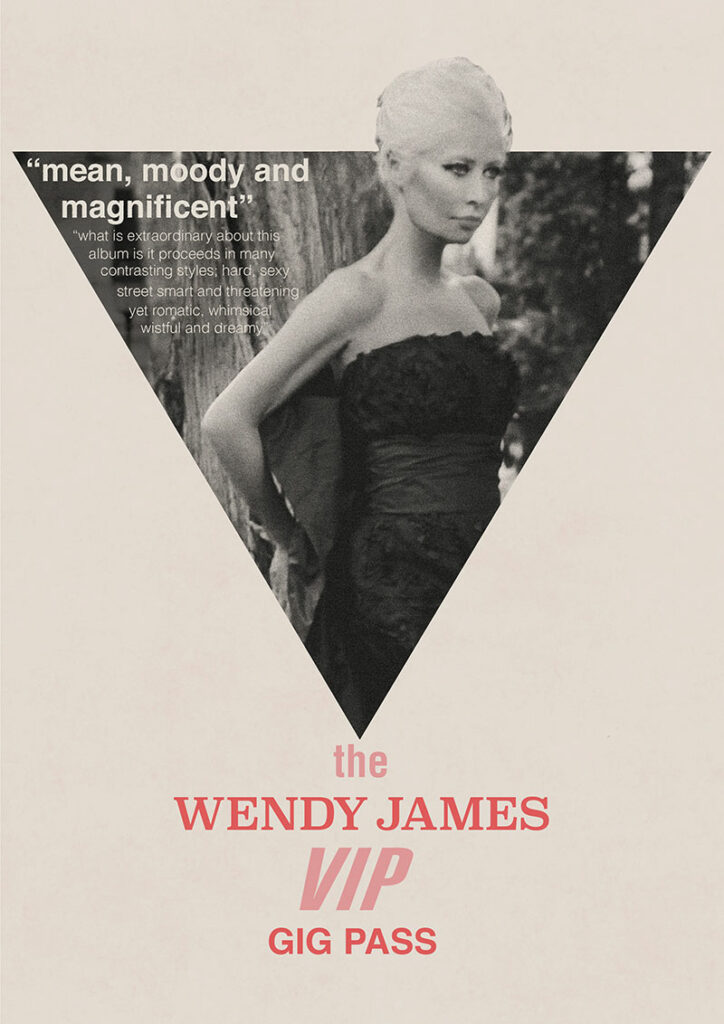 VIP
If you want to come VIP with me! Then click here…
This will get you into the soundcheck and to spend time with me and the band and see the show!
THE TOUR FLYERS
If you go to THE LIVE PAGE then you will once again see all the dates for the tour and also a carousel of all the flyers related to the gigs! Please feel free to download the one related to your location and print it out and spread them around your town, your local venues, clubs, music shops, any shops! Anywhere! It would be lovely to have some grass-roots ground operation for this tour!!
It's all very, very exciting! Much to be done!
But as I sit here writing to you, Queen High Straight is on in the background and I have to tell you: it's all worth it, I have truly made a record piece of work!
Thank you for all your loyalty, support, help…. it is everything to me!
Much Love
Wendy xxxx