Hi everyone!
How are you all?!
Here is the video for 'KILL SOME TIME BLUES'
I'm thrilled with the video, I wanted to close out my 20 track album Queen High Straight with a 'wall-of-sound' 60's girl group sounding song, a big number! The horn sections played by Terry Edwards and Alex Ward are marvelous! The guitar parts played by James Sedwards are magnificent and the drumming and percussion by James Sclavunos and bass playing by Harry Bohay, superlative! – and I must say I'm rather pleased with my singing too!
To this end, I went on a video clip treasure hunt to find some great shots of The Supremes, The Ronettes, The Vandellas, The Shangri-Las, and I stumbled upon some fabulous old footage of 60's girls letting loose and getting their freak on! Spliced and cross-faded into this wonderful footage is footage of me performing live at Hultsfred Festival in Sweden and a performance on a broadcast tv show called Live At The Dome.
The video is masterfully timed out, edited and presented by David Leigh Dodd, who has been the photographer and videographer for the entire presentation of Queen High Straight.
I think the video is an enormous success and it serves to amplify this great song! Chosen by you all to be a double-a-side single along with Marlene et Fleur!
THE WENDY JAMES BAND TOUR 2021!
– is rescheduled and expanded! It is now a 22 date tour (with more to announce!) and is happening in March / April 2021!
Get your tickets and VIP passes now via https://thewendyjames.com/live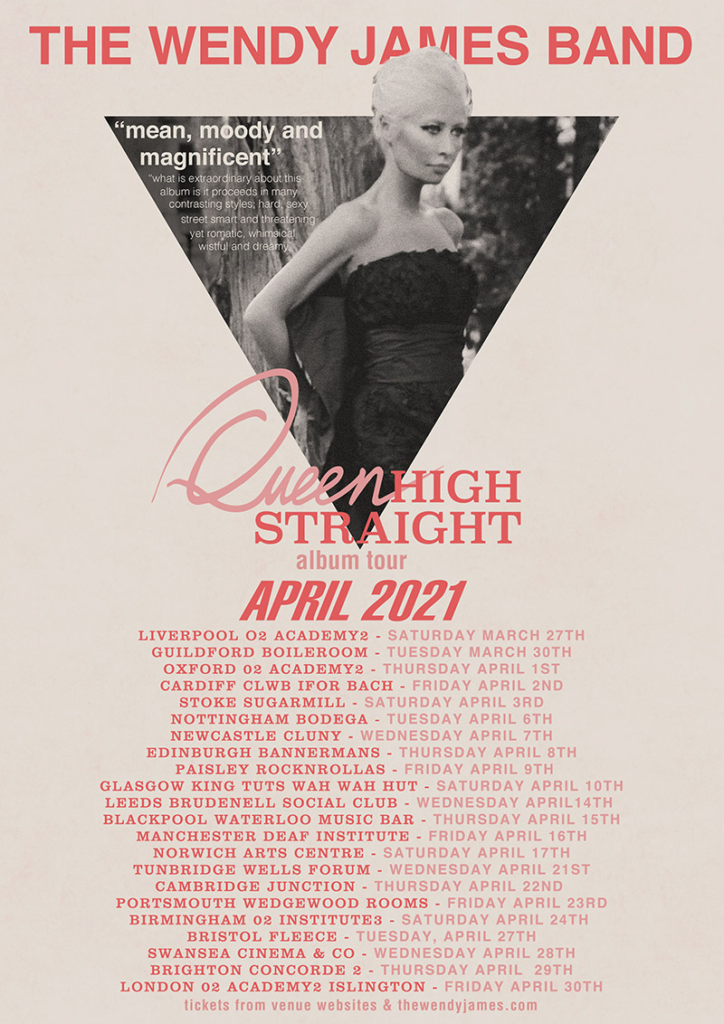 QUEEN HIGH STRAIGHT IS OUT NOW!
Here are some of the wonderful press quotes its' garnered…. Not least of all you, who have taken it to heart and are loving it! Long may it continue!
"packed with 20 songs, remarkably filler-free, brimming with colorful vocabulary, catty character study, melodic excellence and stylistic dexterity… She means it, man, and it's a joy throughout." – 4/5 MOJO
"A superior collection of cosmopolitan pop music, the 20-song set is both catchy and complex." – The Telegraph
"A Motown flecked ode" (Little Melvin) – The Times
"A characteristically ambitious album, a double, 20 songs… a varied retro-pop clutch; James knows her way around the chords, and how to keep things moving. But the charm lies in their personality…" – Metro
"Written, produced and mixed by (ex-Transvision Vamp) Wendy James fronting a strong band and dabbling in a dizzying variety of styles." – Classic Rock
"stylish, vintage sounds, in thrall to the Velvet Underground, Bob Dylan and 1960s pop." – 4/5 Mail on Sunday
"Wendy gets the last laugh with an up-for-it 20-song double album of punk, rock & roll and general mayhem. Just as energetic as the Vamps, the songs are sharper than ever." – Daily Star
"James specializing in a Stooges belligerence as she rampages across half the album as if about to wreak terrible vengeance on the speakers. There's an insouciant poise throughout, as James ensures her devilment is backed up by strong tunes… It's impressive, showcasing what an under-rated writer and producer James has matured into." – Classic Pop
"Reflective music from a real queen… an album for James fans and newcomers alike." – Vive Le Roc
So! Onwards! Enjoy the videos and more news coming soon!
Much love
Wendy xo
Here is the video for 'QUEEN HIGH STRAIGHT'