Hi everyone!
We are moving the tour! This time we are pushing back to August and September 2021. The dates are set and confirmed and all your tickets and VIP remain valid. All direct ticket links can be found at https://thewendyjames.com/live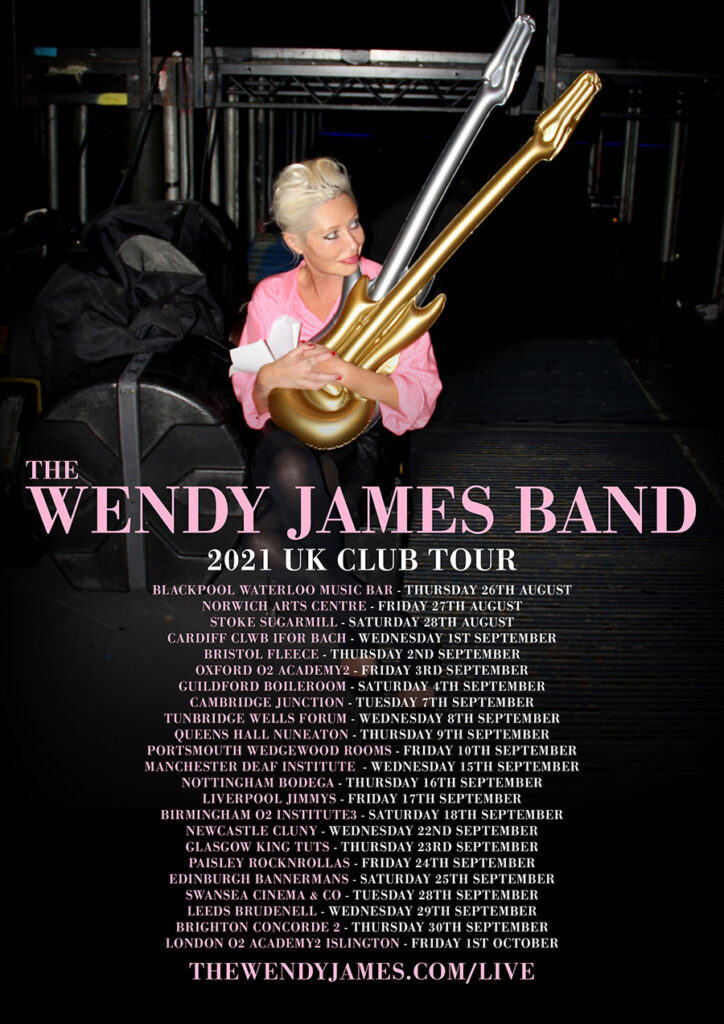 I know we are all looking forward to this and have been for a year now! The pandemic of COVID19 hit us in January 2020 and since then we've all been playing counter-punch to the virus. I've spoken with all the promoters on this tour and no-one thinks that enough vaccinations will have been administered in time for un-socially distanced venues and that's what we're looking for! A hot, steamy venue where we are all up close and personal and deep in the music!
So! Let's get it together and put COVID19 in the rear view mirror! Sit tight one more time, for August/September 2021.
These are the dates, venues and links (with more to add!):
BLACKPOOL WATERLOO MUSIC BAR – THURSDAY 26TH AUGUST
http://skiddle.com/e/27322881
NORWICH ARTS CENTRE – FRIDAY 27TH AUGUST
http://bit.ly/WendyJamesNAC
STOKE SUGARMILL – SATURDAY 28TH AUGUST
https://bit.ly/2RoOfUu
CARDIFF CLWB IFOR BACH – WEDNESDAY 1ST SEPTEMBER
bit.ly/WendyJamesBand-CDF
BRISTOL FLEECE – THURSDAY 2ND SEPTEMBER
https://bit.ly/2S14Iji
OXFORD O2 ACADEMY2 – FRIDAY 3RD SEPTEMBER
https://bit.ly/2YXmh5W
GUILDFORD BOILEROOM – SATURDAY 4TH SEPTEMBER
https://link.dice.fm/J8AGKCcoi3
CAMBRIDGE JUNCTION – TUESDAY 7TH SEPTEMBER
https://bit.ly/2tpSXt3
TUNBRIDGE WELLS FORUM – WEDNESDAY 8TH SEPTEMBER
https://bit.ly/39eTwoP
QUEENS HALL NUNEATON – THURSDAY 9TH SEPTEMBER
https://t.ly/8c3f
PORTSMOUTH WEDGEWOOD ROOMS – FRIDAY 10TH SEPTEMBER
https://tinyurl.com/wpgqqoy
BRIGHTON CONCORDE 2 – TUESDAY 14TH SEPTEMBER
https://bit.ly/36xv9C2
MANCHESTER DEAF INSTITUTE – WEDNESDAY 15TH SEPTEMBER
http://bit.ly/35rYHQ3
NOTTINGHAM BODEGA – THURSDAY 16TH SEPTEMBER
http://bit.ly/2uQnMaJ
LIVERPOOL JIMMY'S – FRIDAY 17TH SEPTEMBER
https://bit.ly/38FdUC9
BIRMINGHAM O2 INSTITUTE3 – SATURDAY 18TH SEPTEMBER http://bit.ly/WJInstitute
NEWCASTLE CLUNY – WEDNESDAY 22ND SEPTEMBER
https://bit.ly/2s5k8ZE
GLASGOW KING TUTS – THURSDAY 23RD SEPTEMBER
ktwwh.co/wendyjames
PAISLEY ROCKNROLLAS – FRIDAY 24TH SEPTEMBER
www.rocknrollas.co.uk
EDINBURGH BANNERMANS – SATURDAY 25TH SEPTEMBER
http://t-s.co/wend0
SWANSEA CINEMA & CO – TUESDAY 28TH SEPTEMBER
https://buff.ly/2NGe01q
LEEDS BRUDENELL – WEDNESDAY 29TH SEPTEMBER
http://bit.ly/WJamesLds
LONDON O2 ACADEMY2 ISLINGTON – FRIDAY 1ST OCTOBER
http://bit.ly/WJIslington
One of the things that has happened in the year since we originally were meant to be out gigging Queen High Straight in May 2020 is that I've had the time to listen back to my previous albums. I loved what I heard and have so many favorites, as I'm sure you do, so I've made a decision and a commitment to play a varied set list every night of the UK 2021 club tour so all these songs can have their moment and of course, play you Queen High Straight!
Personally it's been very tough for me to not be with my band, rehearsing and all the camaraderie that goes along with that and so I am as ready as anyone to get this show on the road.
Onwards!!
I miss you all!!!!
Mark your calendars! We are moving to August / September!
Get your tickets now and get your VIP if you want to spend time with me and the band, see the soundcheck and through the whole evening for the show!
VIP here: https://thewendyjames.com/product/v-i-p-the-wendy-james-gig-pass/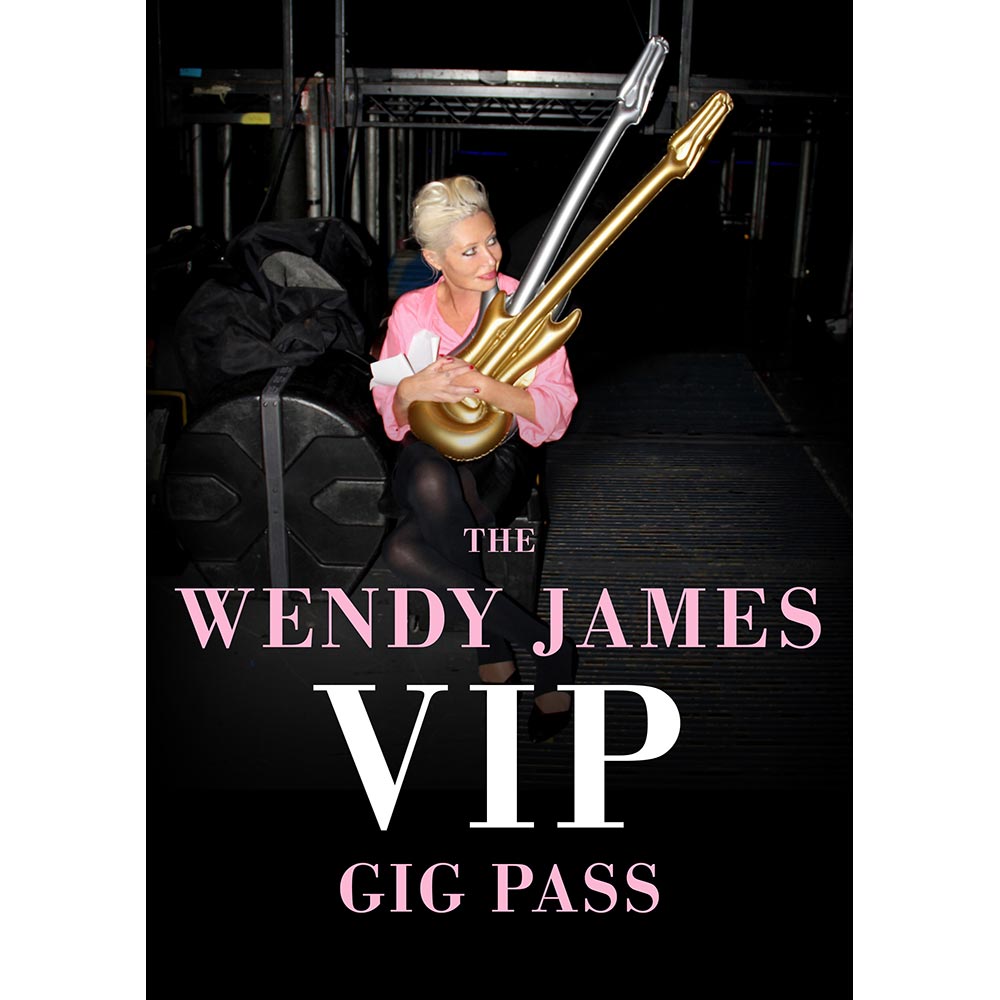 My love as always
Wendy xoxo