Hello Everyone! I've a lot of tell you! Some updates and some new news!
THE WENDY JAMES ALBUM 10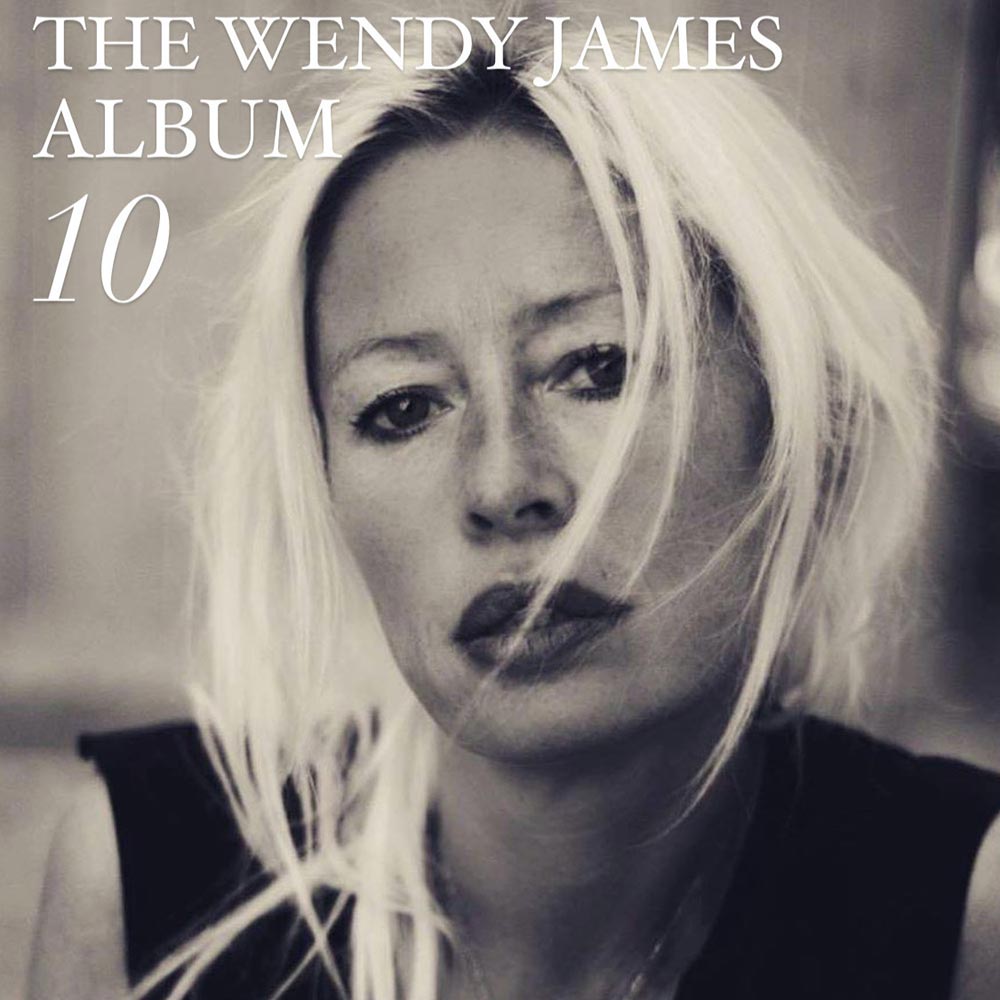 I've started! It took a while to get my head around going deep back into the songwriting process but… that's what I do and that's what I'm doing! I cannot make any predictions about the album yet… (although you know I will post whenever I've had a 'Eureka' moment!) I have some notes and I have some influences I want to look into, I also want to expand the sound again! It was so musically rewarding to have such complex backing vocals, piano and organ playing, horn section and accordion on QUEEN HIGH STRAIGHT and I've always been a sucker for a big arrangement! Whether it's Phil Spector or Motown or Bacharach and David or even Lou Reed… I am tempted to see if I can get some orchestral arrangement into my sound, my sound which forever will be rooted in crunchy, edgy guitar New Wave and Pop.
To this end: I've launched the pre-order campaign for THE WENDY JAMES ALBUM 10!
ORIGINAL ARTWORK PROOF 12" VINYL
ORIGINAL ARTWORK PROOF DELUXE CD
ORIGINAL ARTWORK PROOF STANDARD CD
Just as we managed together with Queen High Straight, the more you pre-order the more it helps me realize the budgets necessary for recording…
Let's begin now!
ALBUM 10 will be an anniversary album, a landmark album, and I am determined to make it INCREDIBLE!!
THE RACINE 2 12" PICTURE DISC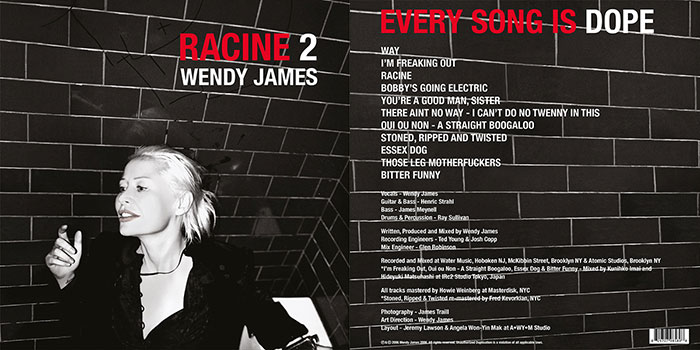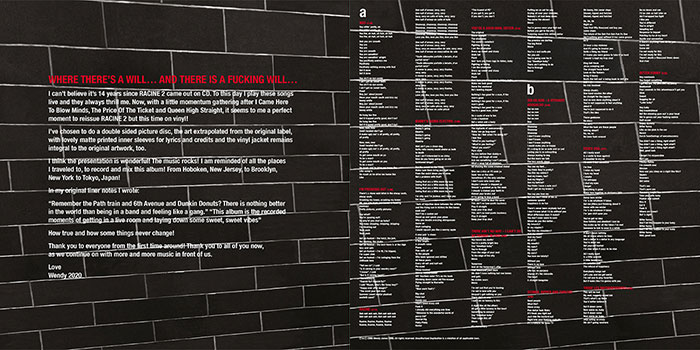 I had word last night from my manufacturing company that there are now delays on delivery of the RACINE 2 picture disc. The Pressing Plant is in the Czech Republic and they are being hit very hard by COVID with some of their workers on sick leave, plus… it's now running into Christmas deliveries and rushed orders, so I'm afraid our lovely Picture Disc will not reach us until January 2021. I'm so sorry… Of course everyone I work with is ensuring, to the best of their abilities, to deliver the album as soon as possible!
If you've not yet got a copy, pls do! I remastered for vinyl and we changed and adapted the original CD art around to suit the vinyl presentation. It's a two sided picture disc, there are fully printed inner sleeves with lyrics and my signature liner notes! And of course a fully designed thick matte card album jacket.
Many of you congratulated me or observed the high quality of the pressing and packaging for Queen High Straight and this release, as with all my releases, shall be no less!
Order your copy of RACINE 2 here.
NEW MERCHANDISE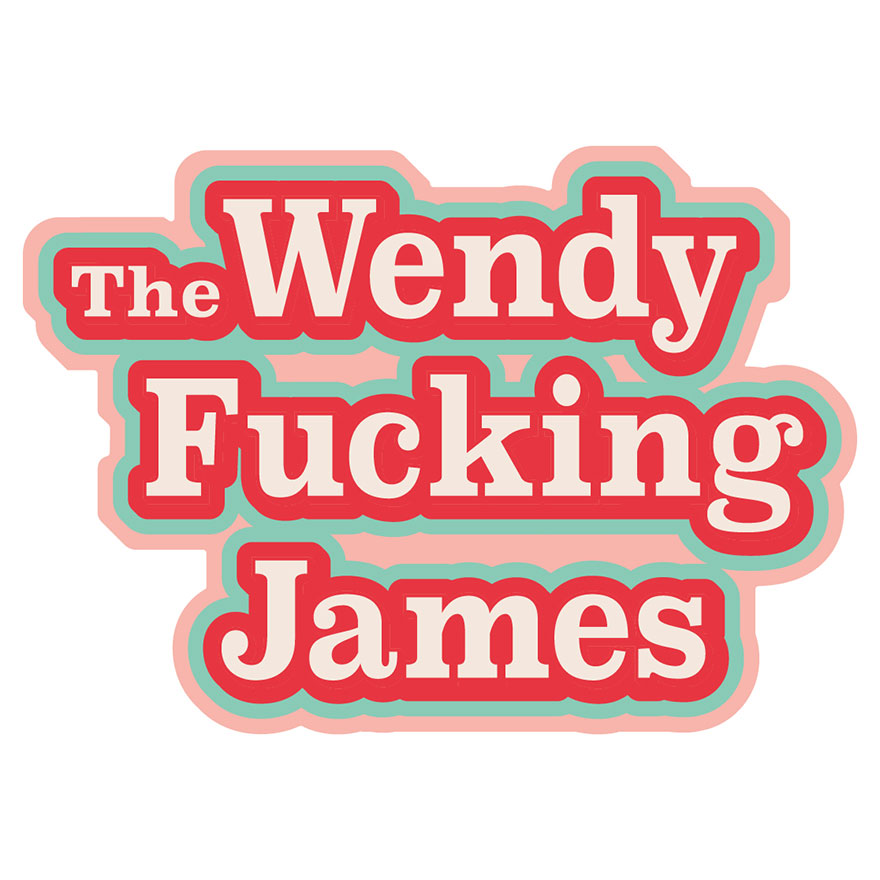 I'm in production making these two new amazing pieces!
A double faced, soft brushed, organic, heavyweight cotton, cream colored hoodie with TWFJ emblazoned hi res across the chest and a cream, double layer knit, ribbed, watch cap with the TWFJ logo on the cuff!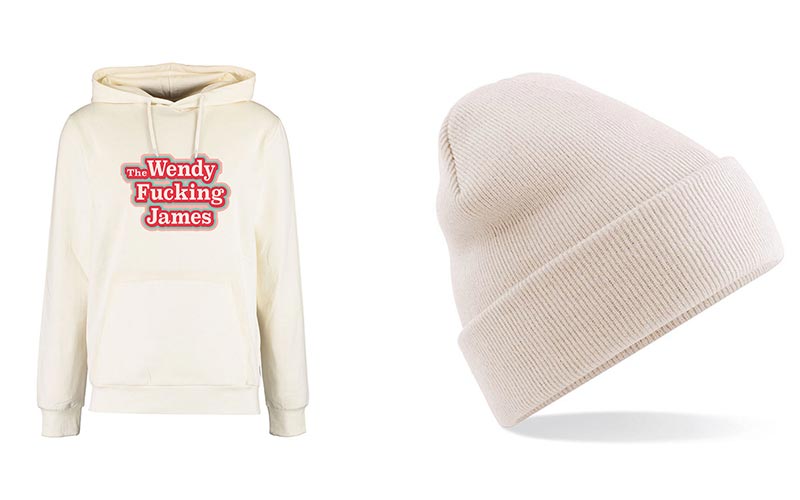 *visuals of hat to be updated
I've sourced a really high quality hoodie and watch cap (beanie). Both are going to be perfect and so, so good for the winter months, come to think of it – all year around! I love wearing a beanie watch cap in the winter, down over my ears and then you pull your hoodie up over it… very cool, very effective and very functional!
You can order them here:
TWFJ Hoodie Sm. M. L. XL. XXL. for the Hoodie
A perfect holiday gift!
Order them separately or as a bundle!
The Wendy Fucking James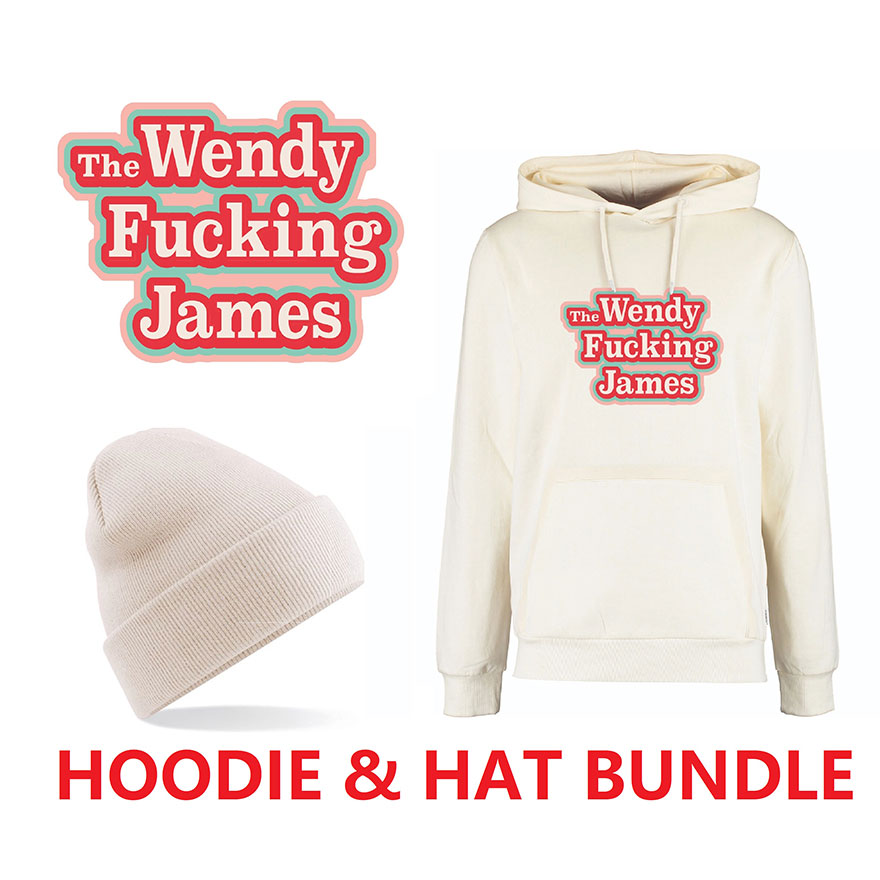 MORE VINYL REISSUES IN THE PLANNING WORKS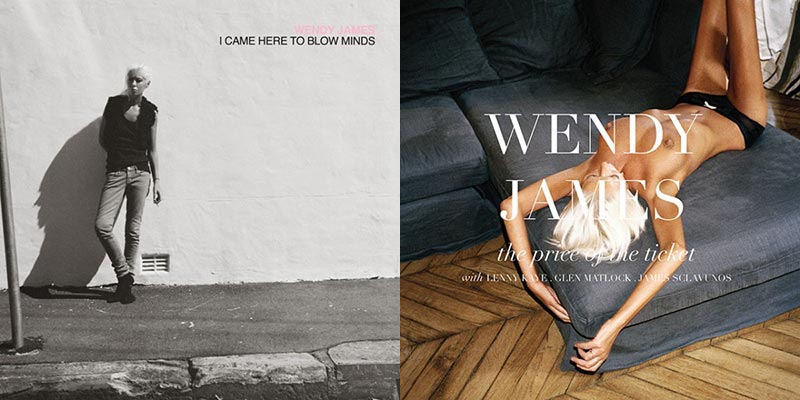 I'm looking at the art and logistics for reissuing 'I Came Here To Blow Minds' on vinyl and also 'The Price Of The Ticket'. With the latter I'm researching possible format combinations that would get, for the first time, all 13 tracks onto vinyl. Obviously with the first release, because of vinyl groove limits, I released 9 songs on Vinyl, 13 on CD, so I'm thinking about ways to insert a 7" vinyl or EP into the package, containing the missing four songs from the original vinyl. An item you'll be able to buy by itself to make up your vinyl collection or if you don't have The Price Of The Ticket on vinyl yet, then you naturally receive all 13 songs!
Finally… the UK MARCH/APRIL WENDY JAMES BAND TOUR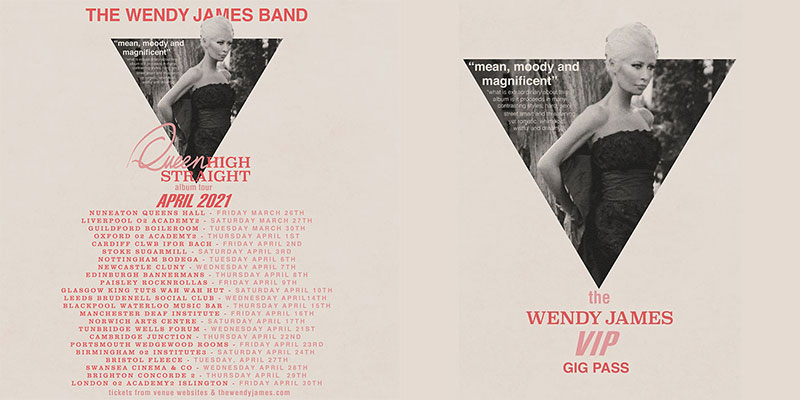 This tour was originally on the books for May 1 2020 when QUEEN HIGH STRAIGHT was released. I remember last January thinking "surely COVID will have passed by May!!" But not so… we rescheduled into September 2020 and that came and went (I forgot I'd booked hotel rooms in some locations and lost my money! Grrrr) and now we're into March / April 2021. Who knows… if a vaccine becomes available and districts start to open up, we might be ok… if it's slower then sure enough we will have a contingency to reschedule until later in the year… BUT THE SHOWS WILL GO ON!
I've had extra time to think things through and as you know I have listened back to my previous albums and therefore have ambitiously decided to produce a different set list each night, so I can show off the many, many songs I've now written and some that truly deserve fleshing out on stage with my band!
It will be GREAT…
Get your tickets and VIP here: https://thewendyjames.com/live
Know this: if dates change, then all tickets and vip remain valid until FINALLY we get the performance we're wanting to give and to receive!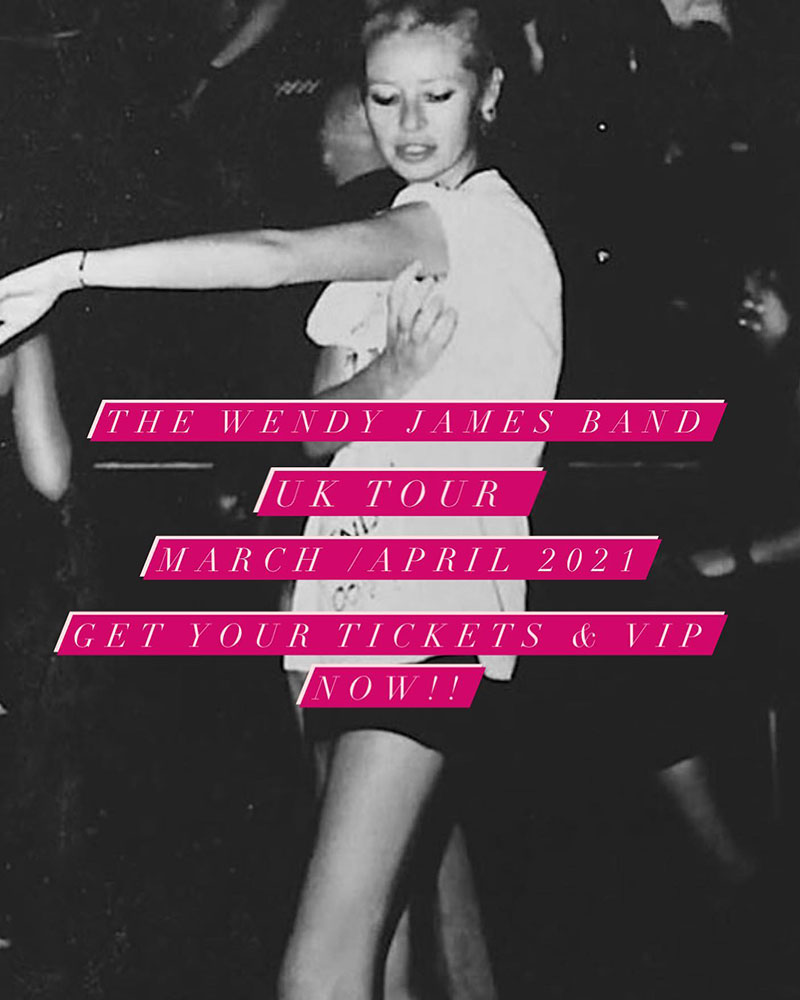 So… in closing:
I miss you all! I hope you're all ok, I hope you're more than ok! I hope you're fine!
Please do pre-order the next album, I know it's a way off, but we can start to involve ourselves now and it will arrive sooner than we think!
When you buy the hoodie and hat, send me photos of you wearing them! – I'd love to see us all decked out in TWFJ! Owning those streets!!
– And of course… continue to enjoy Queen High Straight and all my previous albums! In due course they'll all be on this site.
My love to you all. STAY SAFE!!!
Talk soon
Love
Wendy xoxo