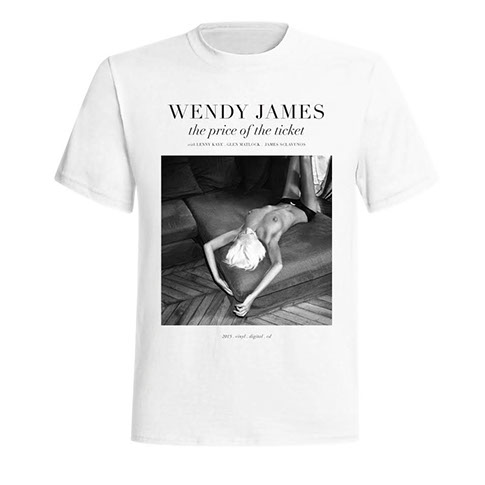 Wendy's second single release coming up on us fast November
25th and we've put together a pre-order bundle that will be valid only from now through until the release date!
If you buy the 7" Vinyl now with the official T-shirt featuring LP art, you can have them both signed by Wendy in time to mail out on
the 25th November!
The Single is taken from her new LP 'THE PRICE OF THE TICKET'
Double A Side
Title:
AA. YOU'RE A DIRTBOMB, LESTER (Track Time: 6' 12" 33BPM)
AA. FAREWELL TO LOVE (Track Time: 3' 16" 45 BPM)
SINGLE RELEASE DATE 25/11/16
Musicians:
Wendy James – Vocals/Rhythm Guitar/Piano & Keys
Lenny Kaye – Rhythm and Lead guitar (Patti Smith/Nuggets)
Glen Matlock – Bass Guitar (Sex Pistols)
James Sclavunos – Drums (Nick Cave and The Bad Seeds)
All songs written and composed by Wendy James
Produced by Wendy James
Mixed by Wendy James and Jesse Nichols at Fantasy Studios
Berkeley, CA. USA
Photography – Ricardo Gomes
Art direction – Wendy James and Ricardo Gomes
The Official T-Shirt is a Hi-Res Black and White image of the LP
THE PRICE OF THE TICKET cover. Photography by Kym Ellery and designed by Roze Hooij. Specify your size and pick your bundle!
Unisex XS, S, M, L, XL 100% COTTON AMERICAN APPAREL CLASSIC WHITE TSHIRT
Order your bundle today! – Buy here: