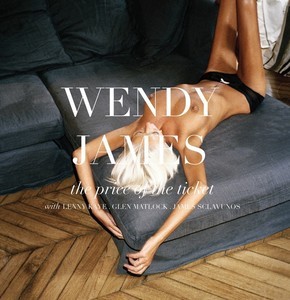 12" Vinyl Test Pressing The Price Of The Ticket
Own one of five 12" Vinyl White Label Test Pressings for The Price Of The Ticket
A very rare item which is made during the final stages of production when Wendy listens to the vinyl test pressing, approves it and green-lights the full manufacture run.
THE PRICE OF THE TICKET VINYL TRACK LISTING
SIDE A
1 PALOMA'S DOWNS (5.45)
2 INDIGENT BLUES (3.41)
3 KING RAT (4.56)
4 LOVE FROM THE 9TH (2.45)
5 BAD INTENTIONS AND A BIT OF CRUELTY (3.41)
Side A – Total running time: 21 minutes
SIDE B
6 YOU'RE A DIRTBOMB, LESTER (6.38)
7 FAREWELL TO LOVE (3.16)
8 COWBOY RHYTHM (5.20)
9 SITUATION NORMAL AT SURFRIDER (7.09)
Side B – Total running time: 23 minutes
TOTAL VINYL RUNNING TIME: 44 MINUTES
WENDY JAMES – VOCALS/RHYTHM GUITAR/KEYS & PIANO
LENNY KAYE – RHYTHM/LEAD GUITAR (Patti Smith/Nuggets)
GLEN MATLOCK – BASS (Sex Pistols)
JAMES SCLAVUNOS – DRUMS (Nick Cave and The Bad Seeds)
*All songs written and produced by Wendy James
*All songs mixed by Wendy James & Jesse Nichols
*Signed.
*Mastered for Vinyl.
*Package and Posting £10.00
*Buy Now.