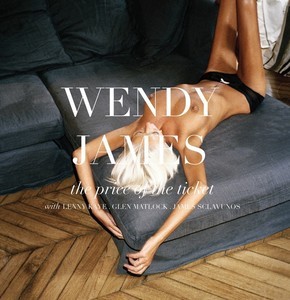 The Price Of The Ticket CD
THE PRICE OF THE TICKET CD TRACK LISTING
1 PALOMA'S DOWNS (5.45)
2 INDIGENT BLUES (3.41)
3 KING RAT (4.56)
4 LOVE FROM THE 9TH (2.45)
5 BAD INTENTIONS AND A BIT OF CRUELTY (3.41)
6 YOU'RE A DIRTBOMB, LESTER (6.38)
7 SCREAMIN' BACK WASHINGTON (Bonus) (3.14)
8 WHY OH WHY DO YOU HURT ME STILL? (Bonus) (1.55)
9 FAREWELL TO LOVE (3.16)
10 COWBOY RHYTHM (5.20)
11 SITUATION NORMAL AT SURFRIDER (7.09)
12 YOU'RE SO GREAT (Bonus) (3.26)
13 IT'S ALRIGHT MA (Bonus) (7.02)
WENDY JAMES – VOCALS/RHYTHM GUITAR/KEYS & PIANO
LENNY KAYE – RHYTHM/LEAD GUITAR (Patti Smith/Nuggets)
GLEN MATLOCK – BASS (Sex Pistols)
JAMES SCLAVUNOS – DRUMS (Nick Cave and The Bad Seeds)
JAMES WILLIAMSON – GUITAR & BASS. Track 12 & 13 (The Stooges)
STEVE MACKAY – BARITONE SAX. Track 12 & 13 (The Stooges)
*All songs written and produced by Wendy James.
*All songs mixed by Wendy James & Jesse Nichols.
**Tracks 12 &13 written by Fred 'Sonic' Smith & Bob Dylan.
*Photography and Art Direction by Kym Ellery and Roze Hooij.
*Release date: 19th February 2016.
*Mastered for CD.
*Package and Posting £10.00
*Buy Now.