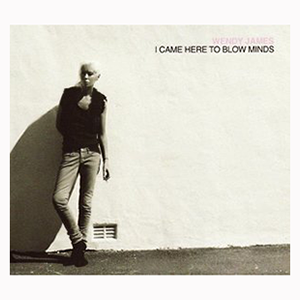 I Came Here To Blow Minds 12" Vinyl
This is Wendy's 'break-out' LP and features 13 original compositions.The songs are typically ranging from Wendy's love of New York New Wave Rock n Roll through to more Country Ballad and Phil Spector 'Wall Of Sound' production.
I CAME HERE TO BLOW MINDS VINYL TRACK LISTING
1. THE MOON DEAD IN THE RIVER
2. WHERE HAVE YOU BEEN, SO LONG?
3. DON'T SHOOT, I AIN'T DILLINGER
4. MUNICIPAL BLUES
5. NEW WAVE FLOWERED UP MAIN STREET ACID BABY
6. SPEEDBALL
7. NO DICE
8. YOU TELL ME
9. KING HOODLUM
10. ONE EVENING, IN A SMALL CAFE…
11. THESE BEGGAR MEMORIES
12. YOU'RE A FUCKING MESS, BUT YOU SURE IS PRETTY
13. I CAME HERE TO BLOW MINDS
*All songs written and produced by Wendy James.
*All songs mixed by Wendy James & Scott Horscroft.
*Photography by James Traill.
*Art Direction by Wendy James.
*Mastered for Vinyl.
*Package and Posting £10.00
*BUY NOW