Hi Everyone!
How are you all doing?
I figured it was high time for me to write!
ITALY AND VIDEOS
I just returned from Rome, Italy, where I met up with David Leigh Dodd, once again, this time to shoot two videos: one for 'Cancel It… I'll See Him On Monday' – one of my favorites from QUEEN HIGH STRAIGHT and 'Perilous Beauty', another of my favorites! Tracks 18 and 2 respectively.
The first video we shot was 'Cancel It… I'll See Him On Monday'. We traveled to a deserted railway station and tracks in a little place called Fabrica di Roma. It was an incredible location to shoot a video depicting the determination and joie de vivre of the song! Styled in a 60's kind of happy go lucky girl way with a miniature suitcase and a sixties sailor cap, we had a ball… dancing along the old platform, the tracks, the waiting room…and finished just seconds before a massive and torrential downpour which didn't let up for 48 hours!
Here's the teaser trailer for the video!
Cancel It… I'll See Him On Monday
After a rainy Sunday in Rome, doing some wonderful tourist stuff, I rose on Monday to attend a fitting for a dress to wear the next day in the video of 'Perilous Beauty'. A dress of bright, roman, cardinal red silk…
The location for filming Perilous Beauty was once again an hour outside Rome but in the other direction, to the great castle 'Villa Borghese'. The Borghese family are a long, long line of Roman nobility with Popes and Cardinals numbered among them. The Castle was one of the locations for Franco Zeffirelli's 1968 movie Romeo and Juliet and the balcony where Juliet exclaims "Romeo, Romeo where art thou Romeo" is the actual balcony of Castle Borghese.
Juliet's Balcony
Pope Paul V, born Camillo Borghese
Princess Borghese aka Nike Arrighi was an actress when she was younger and as fate would have it, she is in one of my all time favorite movies called 'LA NUIT AMERICAINE' or in English: 'Day for Night' starring #JacquelineBisset and #JeanPaulLeaud, shot by #FrancoisTruffaut. The music, the soundtrack is heaven and composed by a #GeorgesDelerue. Nike plays 'Odile the make up artist'.
La Nuit Américaine or Day For Night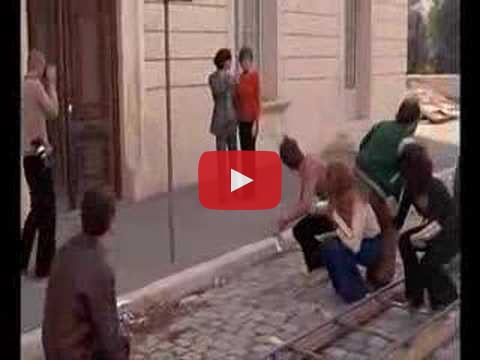 The world is getting smaller, indeed it is! She is the loveliest of ladies… and here in this video is our story of the whole day and and you see Nike showing me her ancient instrument from China, she held the lights for our video and she lit candles all up the curved enormous staircase of her home, she poured me wine and brought me crisps! She showed us the loveliest hospitality and instant friendship…
Thank you to Nike, to her daughter Flavia, to David Leigh Dodd… and Domitilla Coni who did this amazing make-up!
David and I are editing both videos now and I am so excited to share them with you when they're done!!
As I said: both songs are from QUEEN HIGH STRAIGHT so do get your copy of the vinyl, the cds, the poster, the original artwork and the T-Shirt! https://thewendyjames.com/store
RACINE 2 TEST PRESSINGS
As luck would have it, the factory have sent me an additional 5 test pressings for RACINE 2… they are unlike any other I've dealt with, the white vinyl denotes where the picture disc will be, so instead of white label on black vinyl, these test pressings are thick solid white vinyl… and they come packaged in an inner sleeve and the most amazing professional cover. A really lovely surprise for me and for you too!
Five of you out there can now have a test pressing! An unexpected and rare treat! I sign and personalize them to you so – first come, first served.
Buy here: https://thewendyjames.com/product/racine-2-white-label-vinyl-12-lp-test-pressing-signed-and-personalized/
RACINE 2 PICTURE DISC VINYL is officially in production now, I remastered it for vinyl and I couldn't be more happy to have this reissue on vinyl 14 years after it originally came out on CD! Get RACINE 2 here:
THE WENDY JAMES BAND TOUR MARCH / APRIL 2021
I'm so, so excited for this tour!!
A different set list every night!
Long overdue for all of us. I will play you QUEEN HIGH STRAIGHT and many, many, many other songs from what is now an extensive collection of songs!
Buy your tickets now!
ALL DIRECT TICKET LINKS via: https://thewendyjames.com/live
ALL VIP PASSES: https://thewendyjames.com/store
It's going to be amazing!
AND… IN OTHER NEWS…
I'm just about to pull the trigger and go into production with this beauty, for winter! A double faced 100% organic brushed soft thick cotton hoodie! The Wendy Fucking James!!! Quite right too… I know I will proudly wear it all winter and there's nothing better than a high quality hoodie in the winter to keep your ears warm!
And….. I think I will reissue I CAME HERE TO BLOW MINDS on vinyl as well…. It's such a great album and deserves to be in stock. You can currently get the CD in the store here but the vinyl sold out a while ago. I am thinking it through and will no doubt do something with the artwork to make clear it is a second round of production and different from the first! I like things to be special each time…
So, as winter closes in I'm going to finish editing the videos, get some production going for hoodies and vinyls and sit down and start learning all my songs again!! If I start now, I should be ready for March 2021!
Much Love, always
Wendy xoxo
ps. Of course all the t-shirts are continuously in stock so – grab some today!! https://thewendyjames.com/store
xx