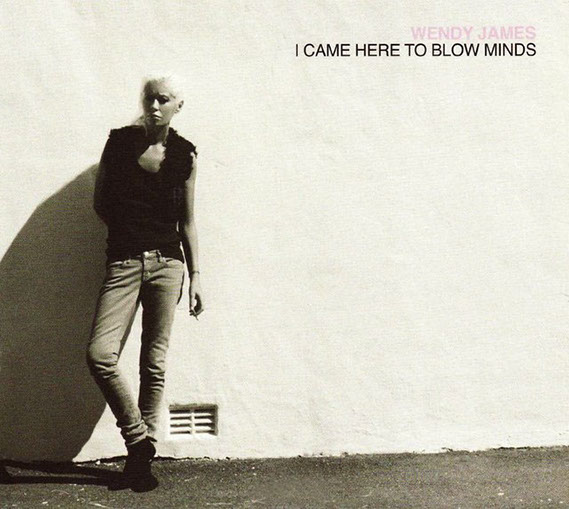 Good morning
I Came Here To Blow Minds Vinyl
Wendy James's third solo album I Came Here To Blow Minds is now available in very limited supplies on this PledgeMusic project.
WENDY JAMES' LTD EDITION VINYL 3RD SOLO ALBUM
'I CAME HERE TO BLOW MINDS'
Written and Produced by Wendy James. Recorded in Paris and mixed in Sydney with Scott Horscroft.
This is Wendy's 'break-out' LP and features 13 original compositions!
 1. THE MOON DEAD IN THE RIVER
2. WHERE HAVE YOU BEEN, SO LONG?
3. DON'T SHOOT, I AIN'T DILLINGER
4. MUNICIPAL BLUES
5. NEW WAVE FLOWERED UP MAIN STREET ACID BABY
6. SPEEDBALL
7. NO DICE
8. YOU TELL ME
9. KING HOODLUM
10. ONE EVENING, IN A SMALL CAFE…
11. THESE BEGGAR MEMORIES
12. YOU'RE A FUCKING MESS, BUT YOU SURE IS PRETTY
13. I CAME HERE TO BLOW MINDS
The songs are typically ranging from Wendy's love of New York New Wave Rock n Roll through to more Country Ballad and Phil Spector 'Wall Of Sound' production, finishing with the raw, self-reflective motif of the title track 'I Came Here To Blow Minds'
Garnering wonderful reviews across the international music press, this album really builds on Wendy's earlier RACINE albums and proved she had come into her own right as a song writer, musician, singer and producer.
LTD amount of VINYL, imported from USA available now from PLEDGE:  Buy here
© Copyright Wendy James 2011US. All Rights Reserved
Unauthorized Duplication is a violation of all applicable laws